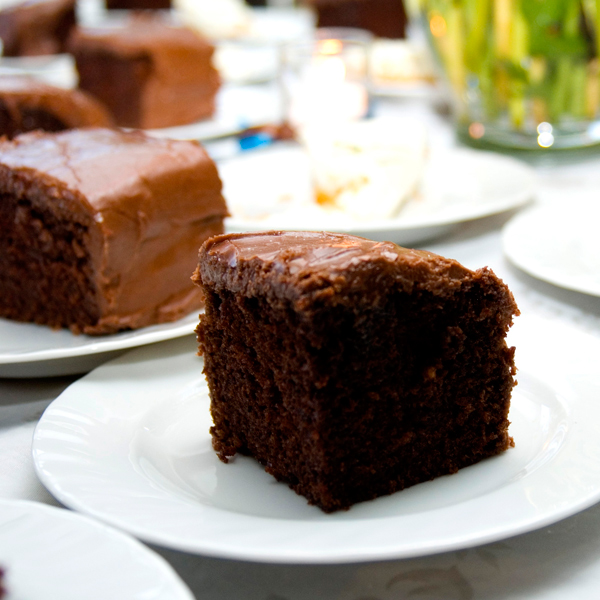 I baked my first cake in decades today. It's gluten-free and vegan, and I substituted the flour with black beans and sweet potato. Then, substituted the egg with 3 ripe bananas. This cake turned out surprisingly moist and delicious, very much the same as any baked cake! It's frosted with my raw food avocado chocolate frosting. Baked goods don't get any healthier than this!
Start with the frosting recipe first so you don't have to wash out the food processor between recipes.
Fudge Avocado Frosting (from Ani's Raw Food Desserts, page 49)
1/3 cup pitted Medjool Dates
1/4 cup agave, or your favorite syrup
1/2 cup ripe avocado flesh
1/3 cup cacao powder
Place all ingredients into your food processor with the S blade, and process smooth. Scoop into a bowl or container, and set aside.
(Skip washing the processor, just use it as is for the cake batter recipe next).
Now, prepare to bake your cake by preheating your oven to 350 degrees F.
Black Bean Chocolate Cake
1/2 apple, diced
1/3 cup sweet potato, cooked, peeled (I used Japanese purple sweet potato, they are in season right now)
3 small ripe bananas
2 cups cooked and drained black beans, or one 15oz can, rinsed
1/2 cup cocoa powder, or cacao powder
1/4 cup coconut sugar, or your favorite sweetener, to taste
1 1/2 teaspoons baking powder
1 Tablespoon vanilla extract
3 Tablespoons peanut butter (substitute almond butter if you prefer)
Start by placing the apple into your food processor with the S blade, process into a puree. Then add the remaining ingredients, and process into a smooth batter.
Scoop batter into a loaf pan (this is not enough batter for a bigger pan, though I made one batch in a pie dish, and it just turned out flatter and more brownie like…still yummy though!).
Bake 35 minutes or so. It's done when a toothpick stuck into cake comes out relatively clean. (will still be quite moist inside even when fully baked).
Let the cake cool for about an hour. Then, frost your cooled cake, serve, and enjoy!
It's pretty guilt-free for a baked cake. Plus, it's full of healthy whole food fiber and protein.
Would love to hear what you think of my new baked recipe please!
xoxo
ani
Last Article Date: Friday, August 12, 2022